Sponsor News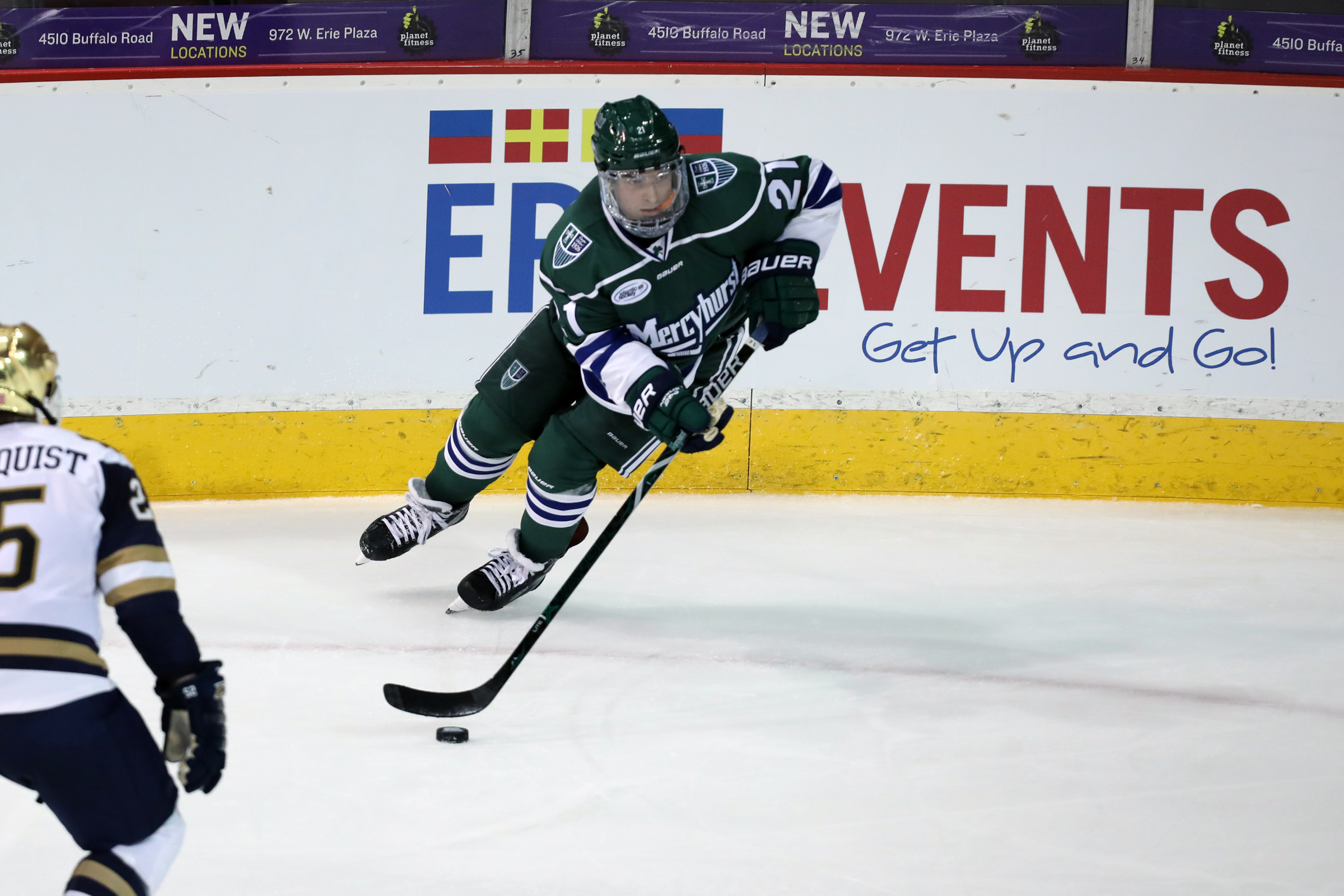 USPHL Alumni Clean Up In NCAA Individual Honors Across All Divisions
By Joshua Boyd / USPHL.com
With over 1,100 alumni currently playing in the college ranks, more USPHL players move on to college hockey than from any other U.S. hockey league.
When they make it there, they continue to excel at spectacular rates of success.
First, you have to look at nine Hobey Baker Award Nominees and two Top 10 finalists for the 2019 award, coming directly from the USPHL or 2018-19 USPHL member organizations.
The USPHL saw its alumni land major awards at multiple NCAA Division 1 conferences, including Most Valuable Player and Rookie Of The Year Awards, as well as placement among All-Star teams in many conferences.
When looking at the NCAA Division 2 and 3 ranks, three USPHL alumni were named overall Players Of The Year for their respective conferences, while Goaltender Of The Year, Defensive Player Of The Year and Rookie Of The Year honors were taken by five others.
It's clear that USPHL players don't just get to college - they get there and make a massive impact.
Atlantic Hockey Association
Joe Duszak was one of the nine Hobey Baker Nominees for 2019, and he also earned the highest monthly honor for NCAA hockey - the Hockey Commissioners Award for the month of January.
That all led to Duszak being named a Top 10 finalist for the Hobey Baker Award, as well as the Most Valuable Player, Top Defenseman and First Team All-Star of the Atlantic Hockey Association.
This year, Duszak scored 47 points in 37 games, hitting 99 career points for his 101-game college career. Duszak signed a professional contract shortly after his college career ended with the Toronto Maple Leafs, playing his first game with the AHL Toronto Marlies on March 20.
Duszak played with the P.A.L. Jr. Islanders organization from 2012 through 2016, finishing in the USPHL Premier (the league's top junior division at the time) as the Player Of The Year for 2015-16. He played in more than 180 USPHL league games.
Dalton MacAfee (Army/South Shore Kings) was a Second Team All-Star in the AHA. He was also a Hobey Baker Nominee and two-time Defensive Player Of The Week winner in the AHA.
Longtime/former Springfield Pics coach Patrick Tabb was part of the American International College staff that won Coaching Staff Of The Year.
Duszak was also in very good company, as he was among eight different USPHL alumni to earn weekly or monthly awards.
Duszak joined former P.A.L. teammate Cameron Heath on the Atlantic Hockey Association Preseason All-Conference team. Heath also earned POTW honors in Atlantic Hockey.
Matt Ladd (Canisius/South Shore Kings) is a two-time AHA Goalie Of The Week.
Steven Ipri (Mercyhurst/South Kent Selects Academy) won December's Rookie Of The Month and a Rookie Of The Week award, as well.
Hockey East Association
Joel Farabee, a two-year member of the South Kent Selects Academy 16U team (2014-16), was named the Hockey East Rookie Of The Year. For Boston University, Farabee scored 17 goals and 36 points in 37 games.
Farabee was also named to the All-Rookie Team and he was Rookie Of The Week three times.
Ahead of the season-ending awards in March, USPHL alumni had already done very well in the Hockey East, which shares a very similar footprint to the NCDC and much of the USPHL Premier and Elite Divisions.
David Cotton, who played multiple seasons with the Little Bruins (current EHF Selects members), earned First Team All-Star honors. He also garnered Player Of The Month and Week honors this year with Boston College. He was among the field of nine Hobey Baker Nominees with USPHL ties.
Karl El-Mir (Connecticut/South Kent Selects) was named a Third Team All-Star in the Hockey East, as well.
Craig Pantano (Merrimack/South Shore Kings) won Player Of The Week honors on Jan. 7 and was the Defensive POTW on Oct. 22.
Jack Dugan, who committed to Providence while with the Northwood School, was named to the All-Rookie Team, won Rookie Of The Month twice and won Rookie Of The Week honors multiple times this season.
Additionally, former Junior Bruins Jacob Schmidt-Svejstrup (Maine), John Picking (Northeastern) and Mike Robinson (New Hampshire) have earned Hockey East Weekly Awards.
ECAC Hockey
Chase Priskie, a senior and second-year captain at Quinnipiac, is a former South Kent Selects Academy player who was also named as a Hobey Baker Nominee. A First Team All-Star, he was also named ECAC Player Of The Week on Dec. 3.
Another Hobey Baker Nominee was Cameron Donaldson, a sophomore at Cornell, who played for the Mid-Fairfield Jr. Rangers 18U team (now part of the EHF Selects Division) during the 2015-16 season. Donaldson was a Third Team All-Star in the ECAC.
Haralds Egle played in the EJHL, a predecessor to today's National Collegiate Development Conference, and he was named as a Second Team All-Star.
Another former member of an EHF Selects organization, former Cape Cod Whaler Jack Rathbone was named to the ECAC All-Rookie Team.
Former Islanders Hockey Club standout Justin Pearson was the Rookie Of The Month for January and Rookie Of The Week for Dec. 10.
Drew O'Connor (Junior Bruins/Dartmouth) earned Rookie Of The Week honors after a three-point game to start his career vs. Harvard on Oct. 27. He also earned the last two ROTW honors of the regular season.
Brown University's Alex Brink played 174 USPHL games with the Junior Bruins and was named Player Of The Week.
Quin Foreman (Dartmouth/Junior Bruins) also earned a Player Of The Week nod.
Big Ten Conference
Hobey Baker candidate Evan Barratt was named to the Big Ten First Team All-Star team, after he put up 43 points in 32 games as a sophomore. Barratt is a veteran of the USPHL 16U Division skating for Penn State.
Barratt was also the Big Ten Hockey Conference's First Star on Nov. 20 and Second Star on Dec. 11.
Former Little Bruin Dennis Cesana was named to the Big Ten All-Rookie Team, after scoring 24 points 32 games from the blue line for Michigan State University.
Notre Dame's Callahan Burke, who played with the Junior Bruins and Little Bruins in 2013-14, is another USPHL alum from the Big 10 to receive Hobey Baker Nominee honors. He was Third Star in the Big 10 on Oct. 23. Burke also earned a Big Ten Sportsmanship Award at the conclusion of the season.
On Nov. 23, Barratt's Nittany Lions teammate Alex Limoges (South Kent Selects Academy) was Second Star in the Big 10. He also joined Barratt as one of the nine Hobey Baker Award Nominees with USPHL ties.
Other Division 1 Awards
Joey Daccord, a goaltender for Arizona State, split the 2014-15 season between the USPHL's Boston Junior Bruins Premier team and Cushing Academy. He is now a junior for the Sun Devils and was a Hobey Baker Nominee, rounding out the group of nine players with USPHL ties.
Matthias Emilio Pettersen was a two-year South Kent Selects Academy standout in the USPHL, from which he committed to Denver University. He was the National Collegiate Hockey Conference's Rookie Of The Week for Week 2.
Northeast-10
The Northeast-10 Conference, America's only NCAA Division 2 college hockey conference, saw several players earn major awards.
Robbie Roche, who played at different times for the South Shore Kings, Boston Junior Bruins and Northern Cyclones organizations, was awarded Defensive Player Of The Year and First Team All-Conference.
Devan Sheth skated for the Islanders Hockey Club in 172 USPHL games before joining Assumption College. He was named Rookie Of The Year, First Team All-Conference and All-Rookie.
USPHL alumni filled five of the six spots on the NE-10 All-Rookie Team, and three of the six spots on each of the First and Second All-Conference teams. Along with Sheth on the All-Rookie team was his Assumption teammate Robbie Holyoke (South Shore Kings). Sheth and Holyoke each won two Rookie Of The Week awards during the season.
Southern New Hampshire University teammates Brett Strawn (Junior Bruins) and Sel Narby (P.A.L. Jr. Islanders/Connecticut Jr. Rangers) joined Roche as First Team All-Conference selections.
Former Northwood player Matt Damelio (Assumption) was a Second Team All-Conference selection, along with Saint Anselm College teammates Dave Almeida (South Shore Kings) and Liam O'Sullivan (N.H. Jr. Monarchs 16U).
On the All-Rookie Team joining Sheth and Holyoke were Northern Cyclones teammates Kyle Martin (Franklin Pierce) and Anthony Iacullo (Saint Anselm), and Joe Fiorino (SNHU/New Jersey Rockets).
USPHL alumni landed Northeast-10 weekly honors in 11 of the 14 weeks, and captured 16 of the 42 total weekly awards.
Notably, Tim Decker (Saint Michael's) won Goaltender Of The Week three times this season - he spent time with both the Rochester Jr. Monarchs and Syracuse Stars.
New England Small College Athletic Conference
Former Islanders Hockey Club forward Lucas Michaud captured the Rookie Of The Year Award after a strong season of posting nearly a point per game (24 in 25) at Trinity College, and he was a Second Team All-NESCAC selection.
Michaud is another longtime USPHL veteran, having played in more than 160 games at different levels.
Colby's Nick O'Connor, another former USPHL Premier standout, was a First Team All-Conference player, as well as Michael Grande. A defenseman for Trinity, Grande has played for both Rochester and South Shore in the USPHL.
Another former King, goalie Tedy Loughborough, was named Second Team All-NESCAC. The NESCAC only named one Player Of The Week each week, and both Michaud and former Rochester Jr. Monarchs goalie Josh Sarlo (Tufts) earned those honors this year.
Commonwealth Coast Conference
University of New England captain Brady Fleurent captured CCC Player Of The Year honors. The senior played in 120 USPHL games between 2012-15. Along with Player Of The Year honors, Fleurent also captured First Team All-CCC and two POTW honors.
Former South Shore Kings Ben Churchfield and Tommy Besinger earned Second Team All-CCC honors. Nick Cyr - a former Springfield Pic who played in 148 USPHL games - was on the Third Team, alongside goalie Justin Ketola (P.A.L. Jr. Islanders).
The CCC featured USPHL alumni in all but two out of the 14 weeks, capturing all three spots on Dec. 9 - Adam Tracey (Junior Bruins) as Player Of The Week, Conor O'Brien (Connecticut Jr. Rangers) as Rookie Of The Week and Ketola as Goalie Of the Week. That was Ketola's first of two honors.
O'Brien won two straight Rookie Of The Week honors, as did former Islanders Hockey Club Midget player Ricky Carballo.
New England Hockey Conference (NEHC)
French national Tom Aubrun won Co-Player Of The Year and Goaltender Of The Year honors in the NEHC for National Championship Finalist Norwich, capitalizing on a career that saw him play his first North American hockey in Rochester with the USPHL. He was also First Team All-NEHC.
Jonas Toupal (Hobart/South Shore) was also First Team All-NEHC, as was Nick Albano (UMass-Boston/Islanders HC).
Second Team honorees included Carlos Fornaris (New England College/Connecticut Jr. Rangers), Austin Rook (Skidmore/South Shore) and Anthony Pupplo (New England/P.A.L.). Zach Sternbach (Hobart/Rochester) was on the Third Team.
Mikhail Bryan (UMass-Boston/Springfield) was a two-time Player Of The Week. USPHL alumni accounted for 15 of the 42 weekly award winners.
United Collegiate Hockey Conference
Chalk up another Player Of The Year honor for a USPHL alum, as Connor Powell (Elmira College) shared the honor with Manhattanville's Matt Lippa. Powell played two years of USPHL 18U with the New Hampshire Jr. Monarchs.
J.R. Wojciechowski was Defensive Player Of The Year with Nazareth, and is a former Rochester player in the USPHL.
Powell was joined on the First Team All-UCHC by former Islanders Hockey Club player Gregg Burmaster (Utica). Elmira's Matthew Cuce, a former Florida Jr. Blade and Springfield Pic, was named to the Second Team, with Wojciechowski and former Rochester goalie Sean Kuhn (Nazareth).
The UCHC All-Rookie Team was a who's who of USPHL alumni. Former Charlotte Rush teammates Justin Allen (Utica) and Tyler Barrow (Wilkes), former Hampton Roads Whaler Regen Cavanagh (Utica) and Elmira's Matthew Cousino, formerly of the Hitmen and Connecticut Jr. Rangers filled four of the six spots.
USPHL alumni also filled weekly award winner spots in 12 of the 14 weeks, including three weekly sweeps.
Massachusetts State Collegiate Athletic Conference
New Zealand native and former South Shore King Jacob Ratcliffe earned MASCAC Rookie Of The Year honors after posting 22 points in 26 D-3 games this year for Westfield State University.
Matt Volonnino (Plymouth State/New Jersey Hitmen) was named First Team All-MASCAC. Volonnino was also twice Player Of The Week along with teammate.
Former Connecticut Jr. Rangers defenseman Tim Perron was also a First Team All-MASCAC selection.
Former Junior Bruins USPHL Elite goalie Brian McGrath was Goaltender Of The Week three times this year and the First Team All-MASCAC selection as goaltender.
Nick DiNicola (Fitchburg State/Springfield Jr. Pics) earned Second Team All-MASCAC honors, and McGrath's Junior Bruins Elite teammate Mike Moran earned a Second Team nod to go with his two straight Player Of The Week awards earned during the season.
Also on the Second Team was former Carolina Jr. Eagle Connor McPherson (Fitchburg State).
Parker Butler (UMass-Dartmouth/Jersey Hitmen) was three times a GOTW.
Ryan Hoff won two straight ROTW awards - he was a former South Shore Kings and Boston Bandits Midget player.
Worcester State's Evan Schieber, who spent four years with the Atlanta Jr. Kings organization had the final ROTW award.
SUNYAC Hockey Conference
Conlan Keenan played nearly 200 junior games in the USPHL and its predecessor leagues, finishing with the New Jersey Hitmen before joining SUNY-Geneseo.
Keenan, the captain of Geneseo, was a First Team All-SUNYAC selection and a three-time Player Of The Week.
Jimmy Poreda, who played his last two pre-college years in the USPHL for the Connecticut Jr. Rangers, earned Goalie Of The Week honors four times this year in the SUNYAC for Plattsburgh State.
He was a Second Team All-SUNYAC selection, joining Plattsburgh teammates Cam Owens (Islanders HC) and Matt Araujo (P.A.L. Jr. Islanders) in that respect.
Morrisville's Nick DeVito (South Kent Selects Academy) and Brockport's Ryan Romeo (N.J. Hitmen) gave USPHL alumni five of the nine Second Team spots.
Romeo's Brockport teammate Doc Gentzler (Potomac Patriots) and Cortland's Nick Modica (Hitmen) were Third Team Selections.
USPHL alumni earned weekly awards in 13 of the 14 weeks, accounting for nearly half of all awards in the SUNYAC.
Additional Division 3 Awards
Josh Koepplinger, a former Florida Jr. Blades standout and Lawrence University's captain, earned First Team All-Conference in the Northern Collegiate Hockey Association.
Former Hitmen player Eric Brenk (Augsburg College) also earned a Player Of The Week award in the Minnesota Intercollegiate Athletic Conference and Michael Romund (MSOE/P.A.L.) was a two-time NCHA Offensive Player Of The Week.