Around the Rink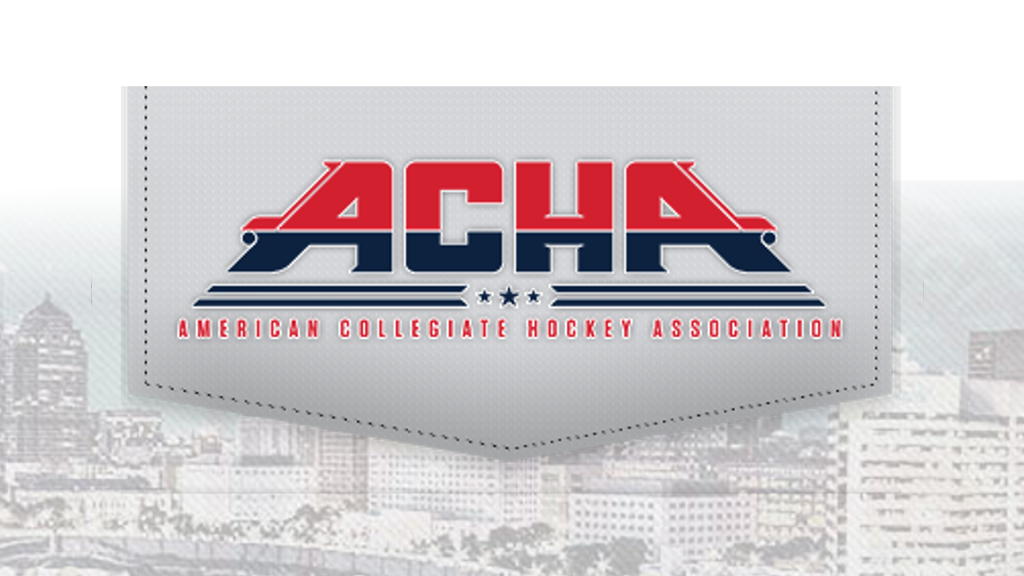 ACHA Showcases Talent in Columbus Ohio
For the first time in its 26-year existence, all five divisions of the American Collegiate Hockey Association showcased their best talent in Columbus, Ohio, from March 9th through March 19th.
Better known to most as college club hockey, the ACHA started with 15 charter members in April 1991 with the goal of creating an impartial governing body to monitor national tournaments, player eligibility, and general oversight.
The biggest benefit that the ACHA provided was the ability for players to continue their careers after high school.
What started as a number of teams in the teens is now over 500 across five divisions (Men's Division 1, 2 and 3; Women's Division 1 and 2).
MYHockey Rankings was fortunate to catch up with ACHA Division 2 Commissioner Jay Peacock recently.
MYHockey Rankings is also proud to be in partnership with the ACHA this season. MYHockey Rankings data was used to help identify ACHA Mens D2 teams that received regional byes (top 2 teams in each region received byes) and how next 10 best regional teams were seeded at their four regional qualifying tournaments.
"They've given me a wealth of knowledge in the area of computerized rankings," Peacock said. "I dove into this saying 'We have 200 teams, and we were human ranking these 200 teams, and there's no way we can accurately do that.'"
The recent regional competition for teams trying to earn their way to Columbus proved how accurate the MYHockey system can be.
"The computerized ranking was pretty predictive as to how that whole thing was going to come out," Peacock said. "We only had a couple [regional tournament games] that I would consider to be upsets in the 32 games we had."
Formerly at the helm of Oswego State's ACHA Division 1 program for nine years, Peacock is well aware of the talent housed within the ACHA.
"It's not a beer league anymore," Peacock said. "It's competitive hockey and it's good hockey."
While it obviously does not hold as much prestige as the NCAA, the ACHA is proud to boast more teams and one more year of eligibility than the NCAA's typical four years.
"It's where [NCAA] Divison III was 30 years ago," Peacock said. "It doesn't have all the restraining issues like the NCAA has."
NCAA Division I and III have a combined 138 teams. The ACHA in Division 2 alone has 204.
What most people don't realize, however, is that there is an abundant amount of talent widespread from coast to coast at the club level.
"I refer to it as the best kept secret in hockey," Peacock said. "It's expanded leaps and bounds over what it used to be."
Commissioner Peacock, despite his large set of responsibilities, is not paying his bills through the ACHA. An educational administrator for the Pediatrics Department at SUNY Upstate Medical University/Golisano Children's Hospital in Syracuse, N.Y., he serves the ACHA as a labor of love.
"As a commissioner, last night I put in four hours of work, and that's an every night thing," Peacock said. "Don't get me wrong, there is nothing that I can give back to this game to repay this game for what it has given me."
While the ACHA is proud of what it has accomplished to this point, there is always that next step that it is looking to take.
There are some teams that want to take things to the next level scholarship-wise in association with the National Association of Intercollegiate Athletics (NAIA), there's been discussion of opening the door for Canadian teams coming down more frequently to take on ACHA squads and there's always the discussion of what team is going to follow in the footsteps of Arizona State and Penn State and join the NCAA.
Peacock did not hesitate to mention the University of Nevada Las Vegas program that has quickly climbed the ACHA ladder and will join Division 1 of ACHA play next season. With the Vegas Golden Knights beginning play in the National Hockey League next year as well, UNLV will certainly be a program that has the spotlight on it.
Although there's no hint of wanting to join the NCAA, the New York University program was also highlighted as a team that has won two of the last three Division 2 National Championships and will begin play in the ACHA's top group next year too.
With the ACHA growing in teams and in popularity, as shown several times on ESPN3 this season, hockey at the club level is going to stay in the spotlight for years to come. MYHockey Rankings is proud of our partnership that helps highlight its top teams at their annual National Championship Tournament.
2017 ACHA National Champions:
Mens D1 - Central Oklahoma
Mens D2 - New York University
Mens D3 - Aquinas College
Womens D1 - Miami University
Womens D2 - Leakehead University
Submission Guidelines