Hockey Snapshots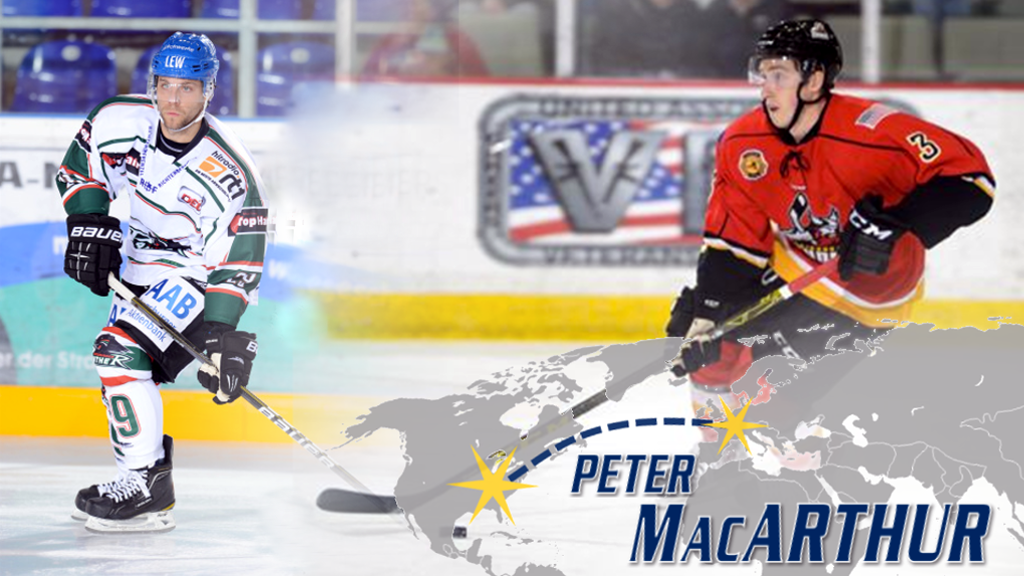 Hockey Snapshot: Peter MacArthur
When one can say hockey has raised you, brought you across continents, inflicted career-altering injuries and made you not only a player but also a mentor and still remains an integral part of your life, you can say hockey is a passion. The lengths players go to keep their love of the sport going are remarkable, and Peter MacArthur's journey showcases his endless and versatile relationship with hockey.
MacArthur's hockey path took an interesting twist after suffering an injury while playing his third year of American league as a left wing. His injury followed by the NHL lockout encouraged him to make a bold move to play in an European league, the German Deutsche Eishockey Liga, leaving behind his fiance Cristina Blackwell, and the comfort of his home country. MacArthur signed with the Augsburger Panther and was excited to begin a new journey.
"I had to start over after the different setbacks I went through in the states" MacArthur said. "I did not want to wait around so decided to take a big opportunity. That's what you do for the sport you're dedicated to, make big decisions and sacrifices."
Besides from leaving loved ones at home and adjusting to cultural differences, MacArthur had to learn a different style of hockey. Training to skate on a bigger rink brought difficulties, MacArthur said. His endurance and skating skill had to increase to maintain the level of play.
"I had to adjust to the learning curve of the defensive side of the game in Europe" MacArthur said. "And beyond just the level of play there, but the living situations, meal plans and even locker rooms. Most important thing is to go into something like this with an open mind."
MacArthur's willingness to accept the differences of Europe helped make his years there beneficial for his career. After playing four years in Europe, MacArthur decided to come back home to New York and play for the Adirondack Thunder of the ECHL. MacArthur reflects back on his time spent in Europe in the highest regard, encouraging all players to make bold decisions which help them grow as players and as people.
Returning home not only allowed him to continue playing in America, but also to begin a new hockey chapter of his life, as mentor and counselor for Coast 2 Coast Player Development. MacArthur recognized how difficult making decisions in hockey can be, and got involved in Coast 2 Coast to aid young players.
"It gives players a chance to realize opportunities they did not even knew they had" MacArthur said. "The chance to thrive, and develop their skills, and then get them to college is rewarding. It shows commitment from players as well as wanting do well for themselves, and not just sitting on bench but being proactive about their skills."
MacArthur knows what it's like to be unsure of the future, and wants to be available as a mentor to those questioning players. Plus, MacArthur still gets to continue playing hockey and growing his experiences in the sport as well.
MacArthur has learned throughout his years how to be a flexible hockey player and now mentor. Preparing for the unknown is difficult, but because he always wants hockey to be in his life makes the necessary sacrifices.
"I could play for many more years" MacArthur said. "But I cannot predict where I'll be given a few years, all I know is that hockey will be in my life, whether on or off the ice."