Hockey Snapshots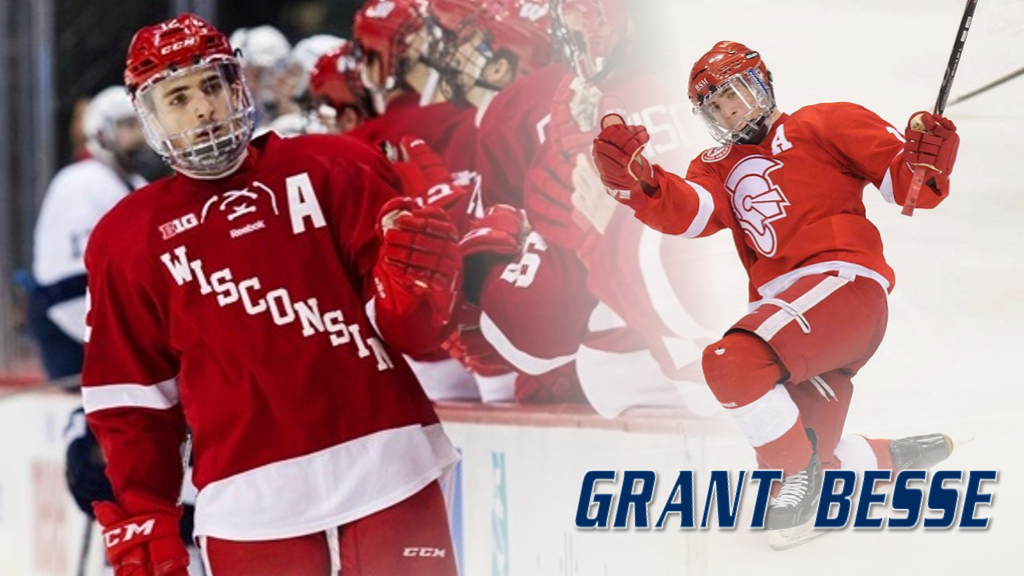 Hockey Snapshot: Grant Besse
If there was a textbook detailing on the correct development path a young hockey player should take it would likely feature a few of the common routes taken today with plenty of examples of players who have followed those routes to the pros. The reality, however, is that every player's path to success is as different as their fingerprints. No two are alike. University of Wisconsin senior forward Grant Besse has already lived through a very unpredictable hockey career, and recalled his unique path beginning from a call one morning his junior year of high school that changed the course of his hockey future.
Like many high end Minnesota high school hockey players, Besse thought he knew his future hockey path. He'd play high school hockey followed by one, maybe two years of juniors, then aspiring for a collegiate career and, icing on the cake, a chance at a stint in the pros. But as Besse has learned, there really isn't a direct or perfect path for any player. Besse's shock that morning of his junior year did not come from who was calling him, UW hockey coach Mike Eaves, but for what he had to say. Besse had already committed to UW and knew he'd eventually be a Badger, but thought he knew the path: MN high school hockey, USHL, NCAA. This plan probably would have become reality, but after Besse's historic performance in the Minnesota High School Hockey Championship game his junior year, his future took an unexpected turn.
After setting a record by scoring five goals against perennial heavyweight Hill-Murray in the Championship game enroute to a 5-1 victory, Besse received the call from Eaves. Citing not just Grant's championship game performance, but his entire standout junior season of 93 points (52 goals and 41 assists in 31 games), Eaves wanted him immediately after his senior season. At this point in his career, Besse knew the commitment level and sacrifices made toward the sport he loved would have to increase.
Besse believes anyone who is serious about their sport has to be willing to make tough sacrifices. In his past, Besse has had to miss high school homecomings, summer vacations and other events to commit to his hockey career, but preparing for collegiate level hockey requires an even greater commitment.
"If you want to keep improving, scoring or defending well, the sacrifices have to come," Besse said. "Any athlete will say work your hardest at all times, but if you don't someone else will outwork you, maybe not immediately, but they will. You need to have that work ethic that you want to get better each and every day, and if you can do that good things will happen."
Good things happened for Besse, and once he knew playing collegiately was closer than he thought, he upped his level of play.
"After I had committed for UW, I just started playing better," Besse said. "Maybe it was because I knew what lay ahead for me. I didn't have to think about it any more. I was able focus on my game and it just helped to elevate my level of play."
Besse was motivated to play at the next level, but he also learned to rely on the advice of his father, John, and his Benilde-St Margaret's High School coach, Ken Pauly. Besse believes his father taught him the importance of work ethic, and his coach has taught him skill. Besse has maintained his relationship with his former coach, exchanging messages while at UW and catching up whenever he makes it back home to Minnesota.
Coach Pauly's influence went well beyond that of hockey coach and teacher, he remains an important advisor in Besse's life. Pauly coached him through the crucial, dynamic high school years, and offered advice to Besse about his future hockey career. Although Pauly believed Besse would succeed whichever path he chose, he too struggled over the decision Besse had to make.
"Grant might have made the tougher decision coming back his senior year," Pauly said. "He had more pressure to perform, and a filled arena night after night. But he, just like many players have to ask themselves, what are they willing to mortgage to get to where they want to be?"
Pauly believes once decisions become finalized and sacrifices made, the player is still the only one to wake up the next morning and face his or her new reality. Pauly echoed Besse's attitude and work mentality, but also advocates for focusing on the now in hockey, and putting all your mental effort towards the team, tournament, or play at hand.
"Having dreams are great, but to stop thinking about what's next is key to being the best player and teammate," Pauly said. "Focusing too much on the future kills the joy and love of the game."
Grant resisted the temptation and the pressure to skip his senior season of high school and jump straight into the USHL in preparation for his freshman campaign at UW. He was physically ready and it was the next logical step for his game. Yet, it didn't feel right to Besse who felt Benilde-St Margaret's was the right place for him.
Besse's dedication to his team and his commitment to hard work throughout his career has resulted an unique hockey path for himself, playing on the UW hockey team as a true freshman straight from high school. His ability to make that jump enabled him to play with numerous NHL bound upperclassmen and win the Big 10 Championship his freshman season. Although playing with the Badgers was surreal, Besse had to learn new elements of the game and make adjustments.
"College players are bigger, faster or stronger. I had a hard time dealing with the systems," Besse said. "In high school, my coach allowed me to play more liberally, but once I got here, there was a lot more structure to account for like forechecks, backchecks, defensive zone. There was that learning curve that I had to adjust to."
Besse made the necessary adjustments and he now enters his senior season as a returning captain for the Badgers. Drafted by the Anaheim Ducks, Besse plans to join the Ducks organization following graduation. Looking back at his past to how he got here, Besse acknowledges that you can never predict how the future will unfold. He advises that you shouldn't try to plan out your future. Enjoy the journey, work hard and focus on your next game.
"Everyone's path is different. I was pressured by junior teams to leave school early, but I said no because I wanted to stay and finish high school," Besse said. "Everyone has their own path and no one path is better than another."