Around the Rink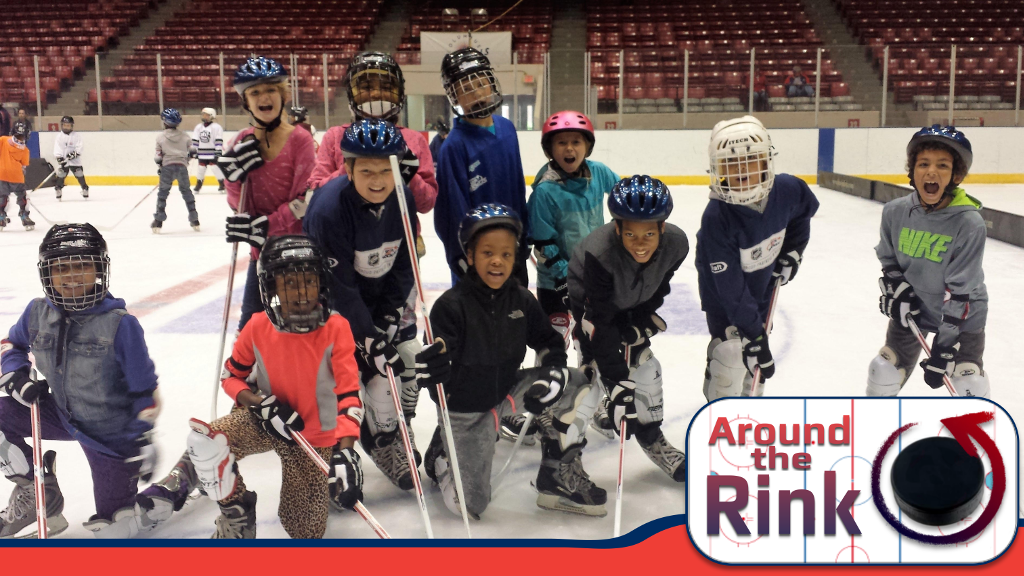 Giving More Than The Game
In just a few days, hockey players around the world will wake up to brand new skates and sticks with values attached to them that continue to boggle the imagination and shrink parental bank accounts.
For those involved in the Columbus Ice Hockey Club and various other programs across the country that rely on donors to provide essential needs for the game, hockey is a gift 365 days a year.
CIHC program director John Haferman was one of the founders of the group, an organization years in the making long before its inception in 1999.
From the mid 1980s to the late 90s, Haferman was involved in running street hockey at the Barnett Community Recreation Center in Columbus, Ohio as part of the Columbus Recreation and Parks Department.
While there was professional hockey in the form of the ECHL's Columbus Chill from 1991 to 1999, Ohio's capital was informed in 1997 that the National Hockey League awarded them a franchise, later called the Blue Jackets.
With the Jackets on the way, hockey in the area was going to experience a boom, and in the winter of 1998, Haferman was asked by city officials to do something that he was intending on trying anyways, starting a hockey program.
Of course, there were going to be challenges along the way.
"Somebody first told me that you can't get black kids to play hockey." Haferman said.
Competitor that he is and with love for the game of hockey in his blood from his days growing up playing on backyard ponds in Winnipeg, Manitoba, he took on any obstacle in his way.
"I've always been motivated when somebody tells me 'you can't do something.'" Haferman said. "I don't like to hear those words."
Haferman received help in the form of Jeff Christian, who later went on to establish Ice Hockey In Harlem, as the duo originally started with a handful of kids who wanted to learn to skate and to play hockey.
They didn't have enough helmets to fit every kid at the time, but they had a no quit mentality to provide an opportunity for young people to learn about more than just a simple game.
"The idea was always 'the hook is hockey,' let's get the kids in and teach them some life skills," Haferman said. "The majority of the kids we get through our program … the streets would find them."
With the additional aid of the Columbus Blue Jackets Foundation, the USA Hockey Foundation, anonymous donations and spreading the word, CIHC began development into where it is today, serving over 3,000 youths per year in their Learn to Play Hockey, Learn to Skate, and hockey team programs, with more than 65 percent of participants being minorities and more than 25 percent female.
While the focus is and always will be on development of the players on and off the ice, CIHC has sent players into higher ranks.
"Over the course of these 16 years, we've kind of become the development program across the city," Haferman said. "We've got 18 or 20 kids that have gone through the (Ohio AAA Blue Jackets) program and we've got a kid playing juniors in Iowa."
It wasn't the true intention, but a nice bonus nonetheless to see players go on to play at higher levels.
"There was no great plan, that's the funny thing," Haferman said. "It's not like we set out and said 'here's what we're going to do."
With 10 teams ranging from mini mite to the junior varsity high school level, CIHC continues to thrive and is very grateful for their donors who continue to provide opportunities for the players.
For Haferman, everything came full circle last year for the program's first ever alumni game.
"To see 40 kids come back that have graduated high school and college, and they told us stories about how the program shaped their lives," Haferman said. "When you set out doing something, you don't really think about what you're trying to accomplish in terms of affecting somebody's life. In the field we're in, teaching or coaching, you don't really know how well you've affected somebody until years later. There's not a monetary reward, but when they come back and they tell you your program meant the world to them, it means a lot."
Other notable programs like CIHC across the country include Snider Hockey, DinoMights, East Side Youth Sports Foundation, New York City Roots and First Goal Foundation.
The game of hockey is a game like no other, and the gift of hockey is a gift like no other. Consider donating to your local program this holiday season.
Submission Guidelines